EQUIPMENT:
One of the things that has shocked us is the cost of equipment and what we are entitled to (not very much at all).
This is the equipment that we are fund raising for:
Quick Move:
The cost of these is approx. £1,700.
This piece of equipment has been a life line for Brian as it is used in his physio.
It is like a large sturdy zimmer frame that allows a person to complete a sit to stand exercise.  There is a removable plate on the bottom of the frame and a small fold down seat for when a person gets tired.  This allows a person to be moved sitting down from one location to another (especially) when they are having a terrible day.
If the plate is removed it allows you to be able to use it as a zimmer to enable you to walk.  We have attached a photo so you can see this and one of Brian using it for walking.
Wheelchair:
Brian resides as Chasley Trust in Eastbourne at the moment whilst we are having the home converted to bring him home (we are self funding  this and doing everything we can to get this money together).  We are truly lucky that we were lent a wheelchair as 9 months down the road the wheelchair providers as part of the NHS have turned him down.
If Chasley had not provided one then he would have been restrained in his bed.  This is being appealed by the case manager assigned to us but if not successful then we will need to buy one that fits his posture and height.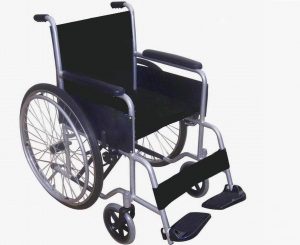 Electronic Hoisting System:
We need to buy a complete electronic hoisting system for my father as at times he is too weak due to seizures and spasms to be able to move.
We have been told these can be up to £6,500 (it pretty scary but he will need it) – apparently the sling is extra!
Bed:
We know that we will require a bed for him that is wide enough and long enough for a 6ft man!
At this stage we are unsure of what we will need but we will soon find out